World's Trail Orienteers converges on Poland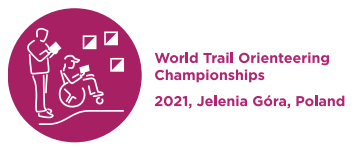 The spa town of Jelenia Góra in southwestern Poland will host this year's TrailO World Championships, which kick off on Monday with 160 competitors from 22 nations, including teams from Japan and the United States. The competitions take place on the lower slopes of the mountainous terrain, mainly forest with very many large stones and boulders. For the first time, nations can enter two Juniors in addition to the standard team entry.
Finland will be aiming for three consecutive victories in major championships in the opening event, the relay. In the O category, the Finnish team won the relay at the last TrailO World Championships (WTOC) in Portugal in 2019 and at the European Championships (ETOC) on home soil in May. A strong Ukrainian team won Class P at ETOC and will be looking to repeat here.
TempO is the second competition on the schedule where the reigning world champion is Marit Wiksell of Sweden. She was silver medalist at ETOC behind Finland's Petteri Hakala, TempO world champion in 2018. Finland has a good track record in international TempO, Pinja Mäkinen and Antti Rusanen being former world champions. Norway also have a good record and their team could well provide a medalist here. There is a qualifying competition in the morning and the final in the afternoon.
Two days of PreO conclude the championships. Pinja Mäkinen is the reigning Class O champion and she showed her good form this year with the silver medal at ETOC. Here Sweden's Jens Andersson won the gold medal and bronze was won by young Dane Tobias Biering. In the P category, Ola Jansson of Sweden will be looking for a fourth consecutive gold medal at the World Championships – what a record! But he can expect a tough challenge from Alejandro Aguila Lara of Spain, who convincingly won both days of PreO at ETOC.
The Relay and TempO competitions are based at the Siruwia Japanese Garden, but only a small portion of the competition seems likely to take place in the garden itself; the surrounding forest terrain will provide challenging technical orienteering for all.
Detail of the Siruwia Japanese Garden
The best results, reports and photos will be posted on this website at the end of each competition day. Many competitors are already in Poland; there is a 2-day 'TrailO Adventure' pre-WTOC event over the weekend.
Competition program
Wednesday July 20, Relay
Thursday July 21, TempO – Qualification and Final
Friday July 22, PreO Day 1
Saturday July 23, PreO Day 2