Orienteering World Championships 2 days PreO: gold medals in Slovakia and Sweden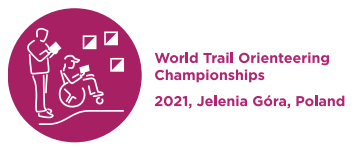 Jan Furucz, Slovakia, won gold in the Open PreO competition for the second time, and for Michael Johansson, Sweden, his victory in Class P (Physically Challenged) was his third success.
Two days of mentally intense competition provided a total of 73 checks and 4 timed checks (TC) to solve. Furucz was wrong on only two of the checks, so 71 correct, and his total time used in the TCs was 66 seconds. That was just 8 seconds faster than silver medalist Antti Rusanen of Finland, who also scored 71. The Open class bronze medalist was the only other athlete to score 71, Bjarne Friedrichs of Germany, whose total time at the TCs was 91 seconds.
Jan Furucz was also world champion in 2018 and also won 1 silver and 2 bronze medals in TempO World Championship competitions between 2015 and 2018.
Michael Johansson won Class P in 2014 and 2016, but fellow countryman Ola Jansson has won the last three times. Today he finished with 64 correct answers in all and a total TC time of 134 seconds. Vladyslav Vovk of Ukraine won the silver medal with 63 points over 305 seconds, and bronze went to Jana Kostová of the Czech Republic with 61 points over 130 seconds.
This competition ends the Championships; the 2023 championships will take place in the Czech Republic.
Main results, PreO
Open class
Jan Furucz SVK 71 points + 66 seconds
Antti Rusanen FIN 71 + 74
Bjarne Friedrichs ALL 71 + 91
Marcello Lambertini ITA 70 + 57
Maciej Urbaniak POL 70 + 81
William Rex SUE 70 + 138
P-Class
Michael Johansson SUE 64 + 134
Vladyslav Vovk UKR 63 + 305
Jana Kostova CZE 61 + 130
Ola Jansson SUE 59 + 118
Alejandro Aguilar Lara ESP 58 + 125
Hana Dolezalova CZE 58 + 237