Orienteering: when running meets navigation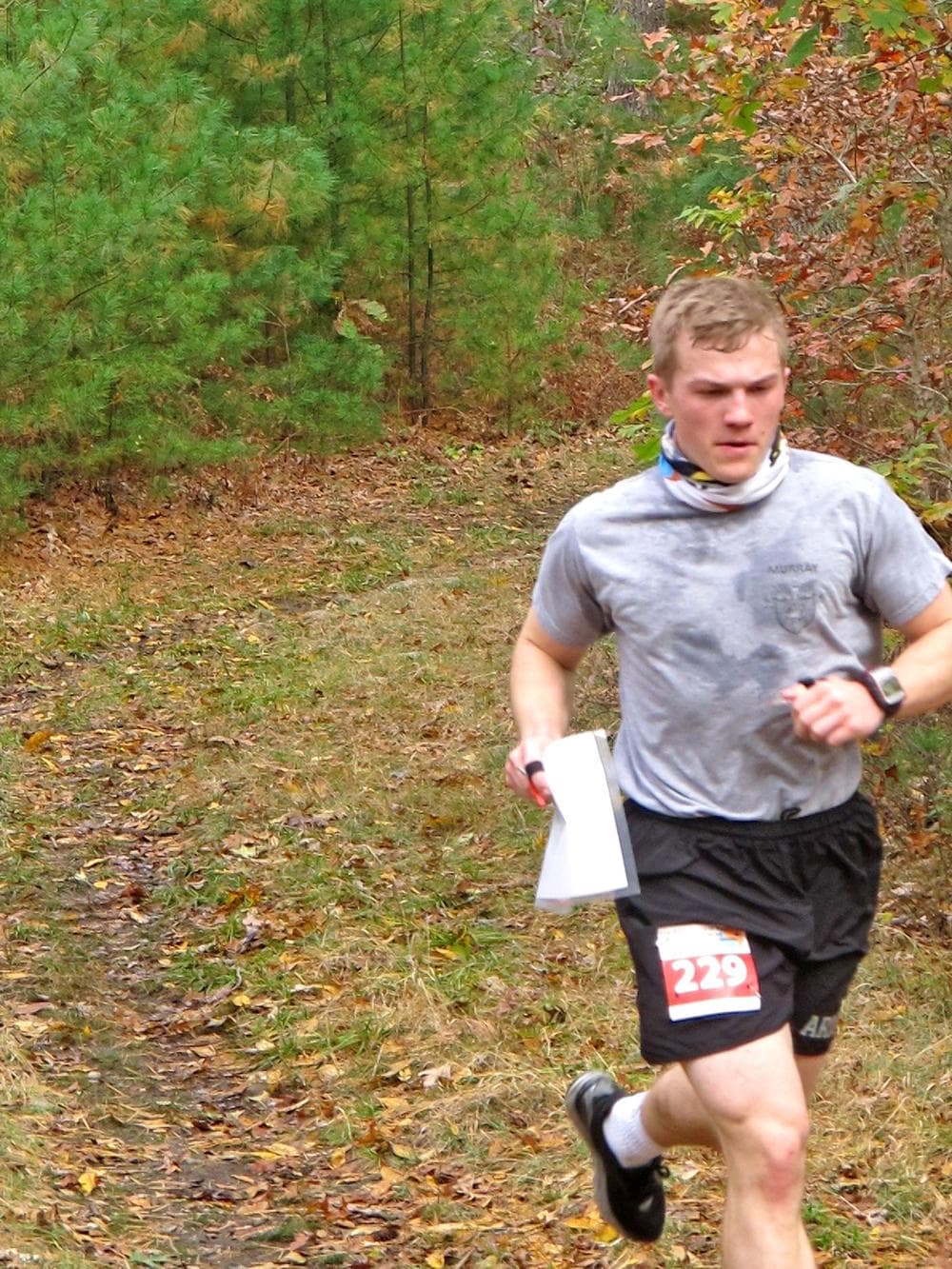 Finding a good place for an orienteering course can be tricky. Mapping it can be complicated. Setting up equipment to record times – complicated.
But Gary Kraft of Mill Valley, Calif., says the premise of the sport is pretty simple.
"You have a map and you have a compass," said the former president of the American Orienteering Federation. "It is your responsibility, or your pleasure, to figure out how to get from point A to point B, then to point C, then to point D, then to point E."
Location, location, location
The location was part of the attraction for Lisa Carr, who traveled from Dallas.
"I've never been here before, so it's going to be real orienteering. This is not my familiar ground. That's why we love to travel," Carr said. "Golfers like to go to different golf courses that they have never played. For orienteers, it's the same thing with the terrain. We're excited when there's a new map, a new area that we can explore.
There were several overlapping courses set up for different age groups and experience levels. Carr and other orienteering veterans will be on the one about 4 kilometers long, with 13 checkpoints – called controls.
"So it's like a 3D puzzle while I'm there. It's even better than a maze because I'm not channeled from one direction to another. It's my choice where I go and it's my choice when I'm wrong," said Carr, who is president of the North Texas Orienteering Association. "I get this real sense of accomplishment when I get there and I get control back to where I thought it would be. It's kind of a rush, you get addicted to that feeling.
Larry and Sarah Mae Berman, residents of Cambridge, Massachusetts, founded the Cambridge Sports Union in 1962 as a running club. They added orienteering after hearing about it in the early 70s. Larry says it was an adjustment.
"I was always running faster than I could sail," Berman said. "Over the years I gradually learned to navigate the years, but of course over the years I gradually learned to run slower."
CSU spent months planning the 2011 championships. An orienteering map is much more detailed than a standard topographic map and the group hired an expert to fill in details like large rocks, stone walls and small streams. Berman says these elements are essential.
"In your mind you have an image, you say, 'Well, about 50 meters away I pass a big rock and another 30 meters away there is another rock. And the control flag that I have to find is on the other side of that rock," Berman said. "Of course, if the flag isn't there, you say, 'Oh, they put it in the wrong place!' But of course they didn't, you made a mistake.
Sneaking onto the course would ruin the fun, so the registration area was a long way from the start, a roughly 15-minute hike that ended atop a rocky outcrop where riders made a second check-in .
The starting point was only 20 meters away, but still out of sight. Orienteering USA President Peter Goodwin said a blind start allows everyone to be honest.
"I can see where they're coming from, but I can't see where they're running. So there's no benefit to me saying, "Oh, the person on my course went that way, so I can just follow the direction," the Wolfeboro, NH resident said. "I have to look at my map and say, oh I guess I better go in a particular direction."
Individual departures are spaced out. Starter Peter Lane hands the orienteer the appropriate 8½ by 11-inch card, face down, and then sends it.
When asked if any runners were trying to squeeze last-second advice from him, Lane revealed another layer of secrecy.
"They can ask, but I haven't seen the cards," Lane said, standing in front of several boxes of cards. "I did not watch."
Standing out on an orientation course, there are long moments of absolute silence. Then an orienteer popped into view, rustling leaves, rushing to the next check.
Competitors look for orange and white nylon markers on short poles. When they find the correct command, they insert a small electronic chip worn on a finger into a reader on the stake. After the race, they will be able to see their split times from point to point.
The championships attracted approximately 300 people from across the country. Although anyone can do orienteering, many participants have a science, engineering or math background.
Alison Crocker is a researcher in astrophysics at UMass Amherst. Crocker is also the top orienteer in the United States and has swept all three events.
An international sport
The sport is more popular in Europe than in the United States and has a loyal following in Canada. Eric Kemp is from Ottawa, Ontario. The 21-year-old says even with maps, orienteers can go astray.
"You can really get lost. Once you kind of get to the elite level of orienteering, it happens less and less, ideally never," Kemp said. "There are different degrees of kind of 'loss'. We joke that a orienteer never gets lost, they just get confused.
Orienteering is a solitary sport, but Sharon Crawford, an 11-time national champion from Frisco, Colorado, says one of the best parts is analyzing the race with friends.
"You talk to them and say, 'Gee, I had no problem with number 2, but I definitely wobbled at 3. I passed it. I had to turn around. How did you you found?" said Crawford, 67. "Your friend will say, 'You made a mistake there. It was trivial, but number 5, I couldn't find it. "
Peter Gagarin of Sunderland, Mass. has been racing since 1973. The former national champion and Team USA coach says the sport is about something in human nature.
"There's always a sense of adventure, which I think is too often lacking in life," Gagarin said. "How will it be this time?" How am I going to do ? Sometimes you do well and sometimes it humbles you. But that's only part of it. For me, the simple feeling of newness every time is a wonderful thing.
Exploring the wilderness has a timeless appeal. The youngest orienteers on the course were only 9 years old. The oldest was 84 years old.