How to follow the Orienteering World Championships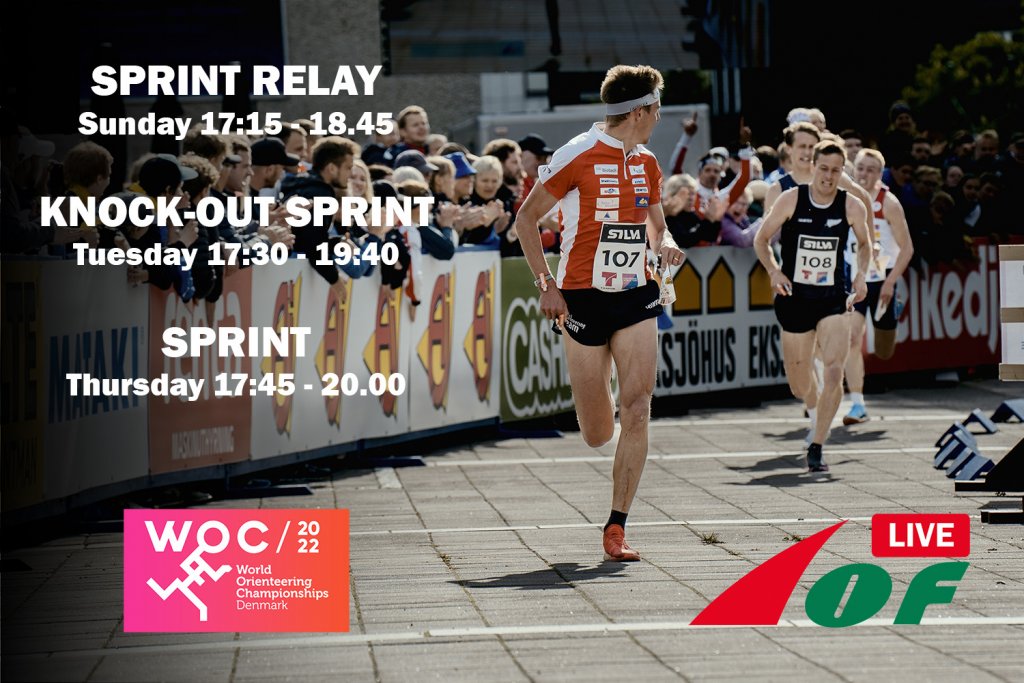 The most prestigious competition on the orienteering calendar is about to take place. The World Orienteering Championships took off on Sunday afternoon in Denmark with the start of the Sprint relay.
The first-ever sprint-only WOC will feature plenty of orientation action on the streets of Kolding, Fredericia and Vejle and will see the debut of Knock-Out Sprint on the WOC schedule.
And as usual, there will be great opportunities to follow the competitions remotely, if you can't join the experience in the arenas.
Above all, the television production of the championships is broadcast in eight countries: Denmark (TV2 Sport), Sweden (SVT), Norway (NRK), Switzerland (SSR SRG), Finland (YLE), Czech Republic (CZ-TV), Austria (ORF), France (TV 8 Mont Blanc).
On IOF LIVE, the TV stream with English commentary by Katherine Bett and Jonas Merz is available for EUR 6/EUR 12 (one/all competitions) here.
Time zone:
The local time zone of the event is CEST (UTC +2). All times printed in the IOF LIVE pages are CEST (UTC +2).
Web-tv schedule:
Sunday 26/6, Sprint Relay 5:15 p.m. – 6:45 p.m.
Tuesday 6/28, Knockout Sprint 5:30 – 7:40 p.m.
Thursday 30/6, Sprint 5:45 p.m. – 8:00 p.m.
IOF LIVE is indeed your go-to place to follow the best orienteers in the world during the WOC races. As well as the TV stream, you'll find start lists, results, GPS tracking, a live blog, maps and post-competition photos.
And don't forget to follow IOF on Facebook, Instagram – and WOC 2022 on Facebook and Instagram.