Harrison Bay State Park offers an orienteering course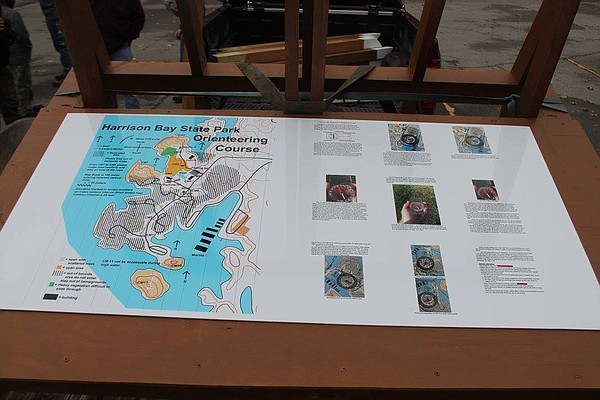 Locals who take advantage of the cool temperatures to explore the wooded areas of Harrison Bay State Park or take in the changing landscape can also take advantage of a unique offering at the park: an orienteering course.
The next closest place with a permanent course to help visitors hone their map and compass skills is at Red Top Mountain State Park near Atlanta.
The local course is the result of a year-long project by Eagle Scout Joshua Bowers of Ooltewah Troop 147.
"If you just rely on current GPS technology, you'll be in trouble if something were to happen to it," he said. "It's good to have reliable analog technology in case something happens so you can expect the unexpected. Knowing how to get from point A to point B is crucial."
Joshua has a history in adventure racing, the competitive form of orienteering, and came up with the idea for the course with his father. Harrison Bay State Park was chosen for its accessibility and popularity, Joshua said.
"We thought it would have the most impact in Harrison Bay," he said.
Working with Park Ranger Matthew Vawter to coordinate where the points would go, Joshua spent a year organizing and planning the course. His scout troop, family and friends helped set up the 12 posts, which serve as orientation points.
Those interested in using the course can go to the camp store to pick up a map and then set off with their compass to find the 12 check-in points.
"The class can take an hour or more, depending on your skill level," Joshua said. "It was designed as a figure eight, so if you get tired at any point, you're not too far off a route to get back. We designed it with all skill levels in mind."
He encourages those heading for the course to wear hiking shoes, bring water, sunscreen, and insect repellent, and not go it alone.
"We designed it for people to check in when they use the course so we know how many people are on the course at once so no one ends up following the people in front of them," Joshua said, adding: "Checking is also good for safety. It maximizes people's experiences to learn new skills and minimizes the risk of something bad happening.
For more information about the orienteering course or Harrison Bay State Park, call 344-6214 or visit tnstateparks.com/parks/about/harrison-bay.
Email Heather Newlin at [email protected]